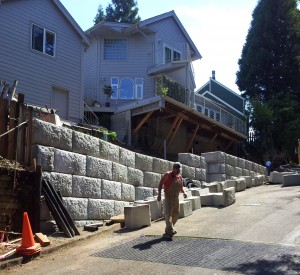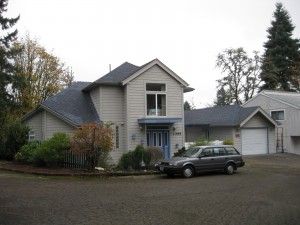 Residential home site on a moderately steep hillside in Oregon City, Oregon needing retaining wall replacement.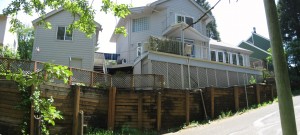 A decades old, wood post and lagging wall approximately 7 to 15 feet high was present along the east side of Peter Skene Way adjacent to the subject home. Materials of the wall had rotted and uncontrolled fills had been placed behind the wall. The wall was identified during property transfer due diligence investigations as needing repair or replacement.
H.G. Schlicker first conducted an engineering geologic hazards investigation with site reconnaissance to determine geologic conditions, hazards and the cause of wall distress. The engineering geologic hazards investigation report recommended that the existing wall be repaired or replacedt.
The property owner retained a structural engineer for the project, and after consultation with H.G. Schlicker it was decided to pursue possible options for a replacement wall design. H.G. Schlicker completed a geotechnical investigation at the site to provide geotechnical recommendations for design and construction of the new wall.
Site subsurface exploration showed that uncontrolled fill materials were present in the wall backfill area. H.G. Schlicker providedlateral loads, global stability, and bearing capacities for the proposed new MSE (mechanically stabilized earth) block-faced wall. The new wall would extend the length of the subject property and tie into the other existing post and lagging walls along Peter Skene Way.
Construction of the new replacement wall presented some challenges, because excavation during removal of the existing wall would encounter utilities and remove support for the house and garage.
We recommended temporary support of the house and garage be provided by a small diameter driven pipe pile and lagging wall.
Also, helical pile were recommended for support of the deck on the west side of the house which extends over the retaining wall backfill area. Installation of these pile was observed by H.G. Schlicker representatives to assure conformance with project plans and specifications.
Excavation of the wall footing area removed existing fills and remnants of the previous structure.
Geogrid and compacted crushed rock backfill was placed behind the wall during construction.
Structural backfill for the wall was compacted in lifts using a vibratory plate compactor.
The completed MSE block wall will provide many decades of service.
1 Project Photo: